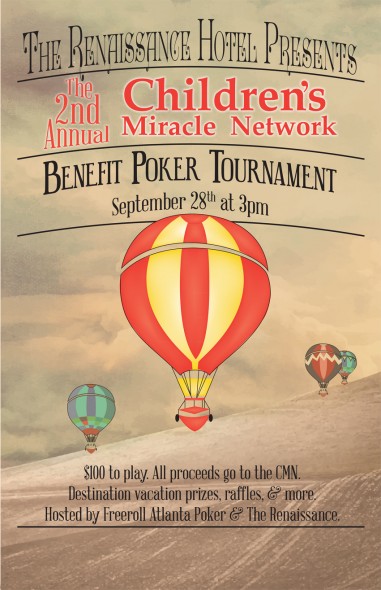 On September 28th at 3pm, we're getting together again to raise some money for the Children's Miracle Network at the Renaissance Hotel in Midtown Atlanta!
Last year was a very classy and successful event – we raised a few thousand dollars, and gave away some great prizes (as well as a ton of free booze).
This year will be similar… $100 buy-in (all of it going to charity), with rebuys for the first hour at a discount.
1st place is a trip for two to the Eden Roc Beachfront Resort in Miami, FL with airfare provided by Delta!  We're also giving away a spa package and 1 night stay at the Evergreen Resort, a kegerator and dinner for two at Briza, a golf bag and bottle of nice booze, and plenty of other goodies.  We'll be raffling off prizes all night, and everyone at the final table is walking out with something!
We're still looking for some dealers to help us out, so email us at info@freerollatlanta.com if you'd like to help us out (and we'll pour you some free drinks while we're at it).
Mark your calendar and come help us help some kids!
NEW EDIT:  We're giving away a free buy-in to whoever racks up the most points in the Freeroll Atlanta Poker league from September 21st – 26th.