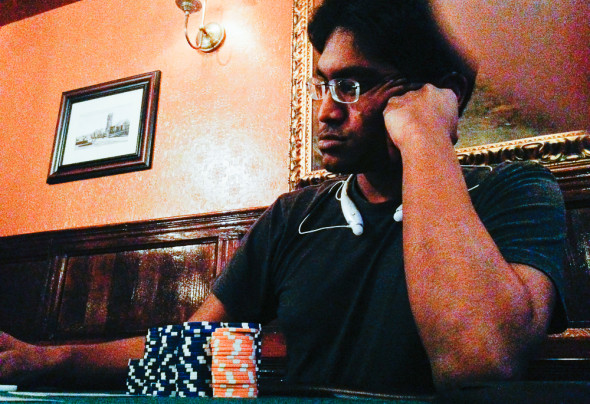 August saw one of Freeroll Atlanta's tightest races to the top.  Four players were neck and neck in the final week of August, but one player burst above the rest in the final day of the month.
That man was Ajai.  Ajai started the month with a huge lead, due to a first place finish that included KO points and a bonus 5 points for the season opener.  He maintained that lead for the first week, but attracted the attention of former champion Eddie Hardy, as well as Meghan Kohn and Lan Green.
It looked as if Meghan was going to end the month at the top spot, but a 3rd place finish at The Vortex in Midtown pushed Ajai into the top spot at the last minute.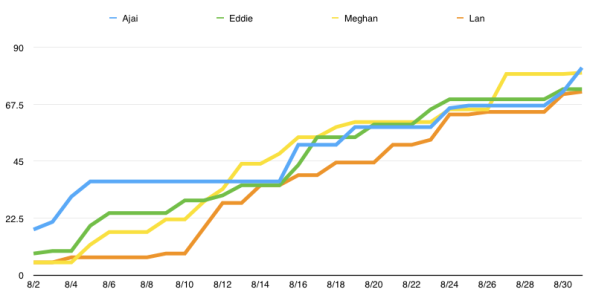 From our point of view, it was a fun final week to watch!
So let's take a look at Ajai's stats for August.
Total points:  82
Player score:  0.701
Total KOs:  41
KO points:  14
Registrations:  17
Final table percentage:  59%
Points per game:  4.82
Total winnings:  $140

Looking at the chart above will show us how Ajai placed in each of his tournaments, relative to the amount of people in the tournament.
We see some solid finishes in the first 4 games, but then Ajai really went boom-or-bust.  A finish in the bottom 3 was then followed by a finish in the top 3 for a week or so.  But it was the two games there in the end that pushed him ahead into the lead.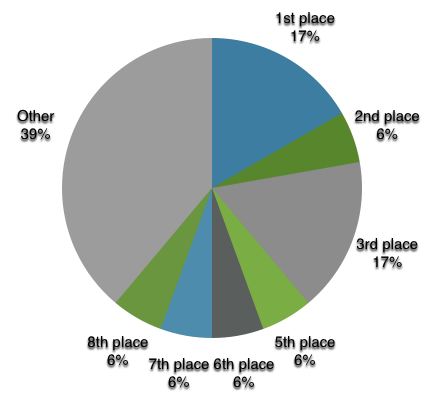 This pie chart is interesting as well.  Ajai finished in the top 3 just as many times as he missed the final table.  A 17% first place percentage ain't nothing to mess with!
Congratulations on finishing at the top, Ajai.  We'll see where the next 2 months put you.
Now, let's see who else stirred things up in the League this month: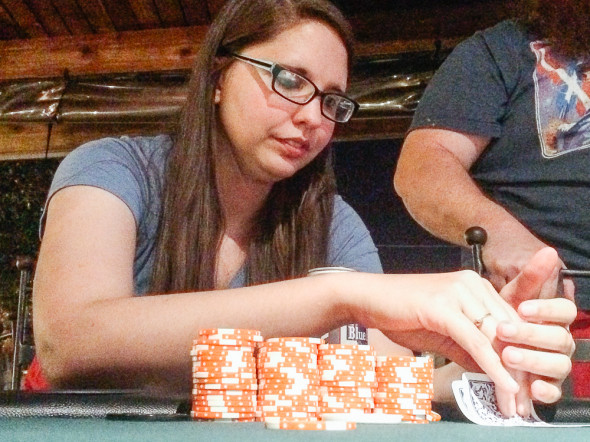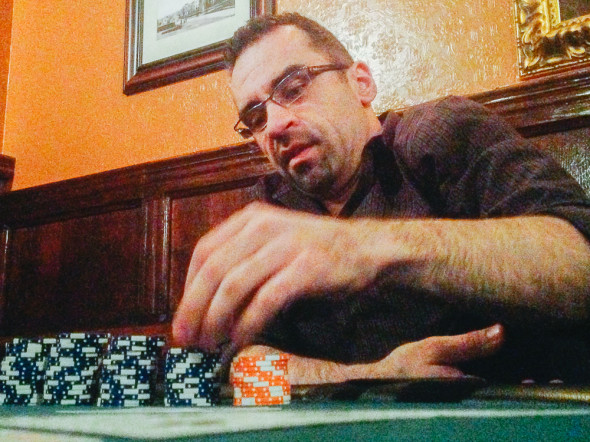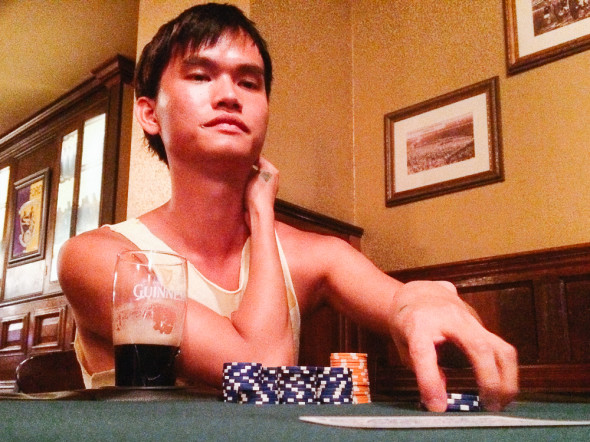 August League Stats
Best player score:  Tabatha Michel, 0.911
Most KOs:  Ajai, 41
Most KO Points:  Ajai, 14
Most registrations:  Lan Green / Eddie Hardy, 22
Most winnings:  Stephanie Alderman, $250 (Kings and Queens winner)
57th Fighter Group
Points:  Michael Harner, 17
Player score: Blaze, 0.897
KOs:  Nick Carpentieri / Michael Harner, 8
Brewhouse Cafe
Points:  Meghan Kohn, 17
Player score:  Chris McCauley, 0.853
KOs:  Meghan Kohn, 9
Deadwood Saloon
Points:  Ajai Karthikeyan, 38
Player score:  Randy Wainman, 0.839
KOs:  Ajai Karthikeyan, 18
Diesel Filling Station
Points:  Meghan Kohn, 22
Player score:  Tiffany Betner / Katie Boykin, 0.920
KOs:  Dennis Milligan, 12
Front Page News
Points:  Jim Arinik, 17
Player score:  Alex Parker, 0.884
KOs:  Ajai Karthikeyan, 7
RiRa Irish Pub – Sundays
Points:  Jim Arinik, 17
Player score:  Amanda Herrera, 0.952
KOs:  Jim Arinik, 9
RiRa Irish Pub – Mondays
Points:  Lan Green, 17
Player score:  Lan Green, 0.755
KOs:  Lan Green, 8
Vortex Little Five Points – Mondays
Points:  Andrew Hayes, 23
Player score:  Andrew Hayes, 0.
KOs:  Greg Kirby, 12
Vortex Little Five Points – Wednesdays
Points:  Gnick Waldorf, 24
Player score:  Dan Esrey, 0.893
KOs:  Gnick Waldorf, 11
Vortex Midtown – Sundays
Points:  Jeff Rakestraw, 16.5
Player score: Patrick O'Hearn, 0.938
KOs:  Jeff Rakestraw, 5