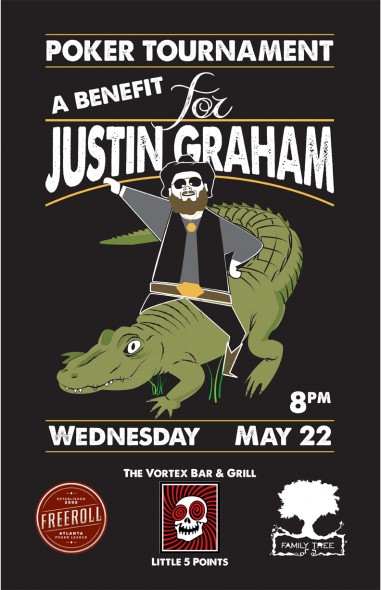 On March 16, our friend Justin Graham was involved in a scooter accident after leaving his managerial shift at the Vortex in Little Five Points.  Justin suffered broken ribs, a partially collapsed lung, a broken arm, and the worst of it – two broken vertebrae and a severely damaged spinal cord.  Justin is currently paralyzed from the waist down.
Justin has been in rehabilitation since, and is showing some great recovery.  However, his time at the Shepard Center and his continued medical expenses have been extremely expensive.  He also has a 2-year-old daughter to take care of.
So, we're going to pull together for a poker tournament and see if we can raise some money for Justin!
The benefit tournament will be on May 22nd, starting at 8pm at the Vortex in Little Five Points.  Buy-in will be $50, with $30 rebuys for the first 3 blind levels.  We will also do an add-on for $30 at the end of the third level.  The Vortex has been working on getting extra prizes for raffles and such, as well.  Payouts to the winners will be determined by the amount of money raised for Justin.
We've always been blown away by the generosity of the Freeroll Atlanta players when it comes to benefit tournaments, and we're excited to see what we can contribute to Justin!