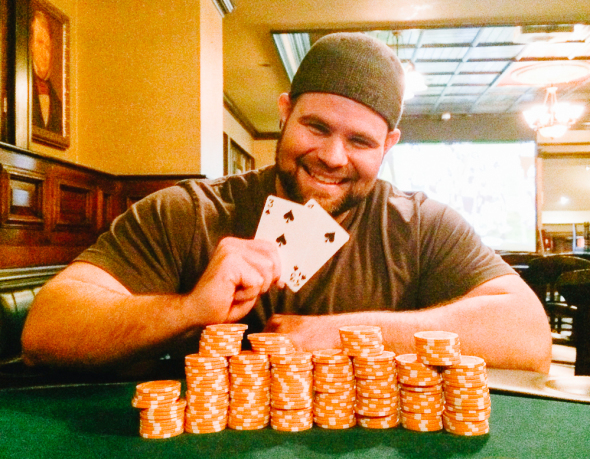 Randy Wainman is our 2014 Fall Champion!
In one of the most dramatic finishes in our Final Tournament history, Randy beat Blaze with a straight and won himself a trip to Las Vegas.
Randy played well throughout the tournament, racking up knockouts and building his stack to a competitive amount for the final table.  He started out the tournament with the 14th biggest chipstack at $23,600 and we doubt he ever fell below that.
Our third place finisher, Jamar Rockymore, was eliminated when Randy caught a higher full house against the full house Jamar flopped!

And that didn't end when Randy met Blaze heads up.  Three or four hands in a row, Blaze had Randy against the ropes with better hole cards, and each time Randy found the cards he needed to beat Blaze.
In the end, Randy pushed all in with his 3-4 of spades and was called by Blaze's Ace-9.  Unfortunately for Blaze, Randy's straight rolled out and ended the tournament.
Congrats Randy!  We have a new champ!