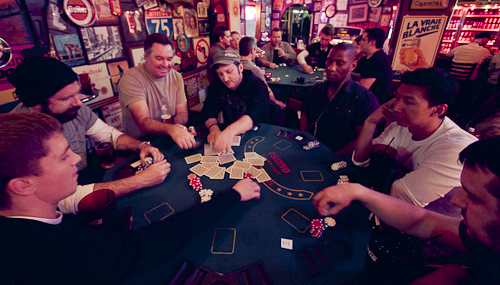 Unfortunately, after 9 years of hosting poker at the Vortex in Midtown, they've decided to end their poker tournaments on Tuesdays and Sundays.  Tomorrow's Tuesday game will be our final game at that location.
For those who played there on Tuesdays, you'll know that the Vortex has gotten much busier over the years.  They've simply gotten too busy to host us alongside their normal tourist crowd.
We're happy that they've seen such growth, and we wish that location much success!  Our business model works to bring a bar more business when they're slow, and so it's not surprising that a bar may cancel our poker games when they show months of steady growth.
The Vortex in Little Five Points will still be hosting us on Monday and Wednesday evenings, so don't fret.  We also have The Brewhouse on Tuesday nights at 8, and still have a Sunday evening option at RiRa.
Much thanks to the Vortex in Midtown, where 9 years ago the Freeroll Atlanta Poker League was born!  We wish the owners, the management, and the servers full boats of success!
Daniel Stabler – owner