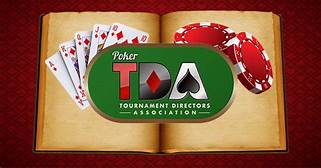 We mostly follow the tournament rules laid out by the Tournament Director Association. Those rules can be found here – TDA rules.
In order to qualify for a gift certificate, you must have a $10 tab. Players at the final table may be reminded of this, but it is up to the player to make sure he or she qualifies for points and house cash.  
Add ons
For the first 5 rounds, players will be rewarded $1000 in chips for every item valued under $10, and $2000 in chips for every item valued $10 or more.
There can be an additional add on for existing league players who bring new players to the league. An existing player will receive five thousand in chips for each new player brought. All new players to the league will receive two thousand extra chips.
New to this season, anyone wearing a Freeroll Atlanta shirt or hat will receive an additional two thousand chips.
Registration and Seating
Please be at the venue before the game starts. If you arrive after the first blind level you will lose one thousand chips for each blind level missed. If you show up after the game starts, but there are no seats available, you will be put on a wait list. Late registration ends after one hour. If you arrive after game has started and there are no seats available, you will be put on a wait list and you will only be able to play if a seat becomes available before the end of the first hour. If you arrive before the game begins but there are no seats then you absolutely will be able to play, and you will be put on a wait list.
We do not do a random seating arrangement because we feel the players should have a choice in sitting with their friends. However, you may be asked to move in order to balance tables.
Knockouts
All poker tournaments are freezeouts. If you get knocked out of the tournament then you may not re-enter. Accepting chips from another player will result in both players being removed from the tournament. Once you're out, you're out.
Of course, these rules may change in a charity event or special tournaments that allows rebuys.
Bar Poker Open
Freeroll Atlanta is a member of the Bar Poker Open(BPO), a consortium of poker leagues all over the country. Some of the weekly games will count toward BPO credit. Check the schedule to see the ones with "BPO" after them. If you place in the top three at these games, you will be awarded a token to play in a weekly online qualifier. Be sure to give the tournament director your email address. This qualifier is for a trip to Las Vegas and a seat at the BPO World Championship. A fully paid trip to Vegas is awarded every week and multiple seats are awarded. The qualifier is every Sunday online at 11 am. Go to www.barpokeropen.com to register.
Behavior
Unruly and combative behavior will result in a verbal warning by the tournament director followed by removal from the tournament. If it's bad enough, you may be banned from any Freeroll Atlanta games.
We do not tolerate players who walk out on their tabs without paying.  
Remember, you're at a public bar, not at a house game. Treat the equipment and venue with respect. The venue and tournament director reserves the right to remove you at their discretion.