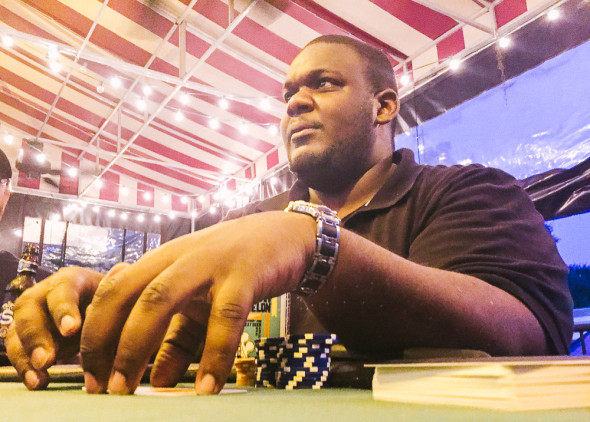 Big Mike Johnson completely destroyed the stats this July!
He nearly broke 100 points, and played nearly every game he could physically make it to!  Almost perfect attendance!  And it worked out for him, since he not only ended the month with the most points, but 31 points more than his runner up!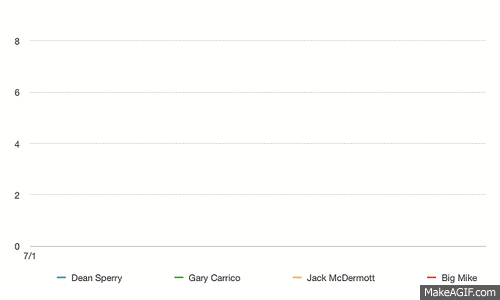 We thought Dean Sperry might take down the top spot in July, because he started so damn strong!  Gary Carrico jumped in the race too, but then Gary and Dean just couldn't score another point from about halfway through the month on.
Big Mike further increased his lead.  However, newcomer Jack McDermott really impressed by jumping quickly into second place after a late start!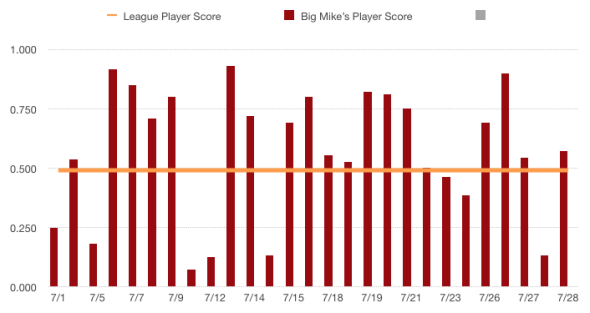 Like we said, Mike literally played nearly every game physically possible this month.  And at the end, we see only 8 games where we finished below the league average!  Pretty good!
Here are the rest of Big Mike's stats:
Total points:  92 (Jack McDermott in second with 61 points)
Player score:  0.658
Total KOs:  36
KO points:  6
Registrations:  27
Final table percentage:  59%
Points per game:  3.41
Total winnings:  $150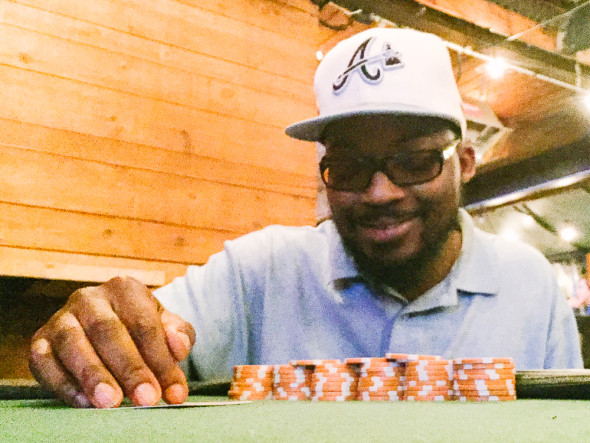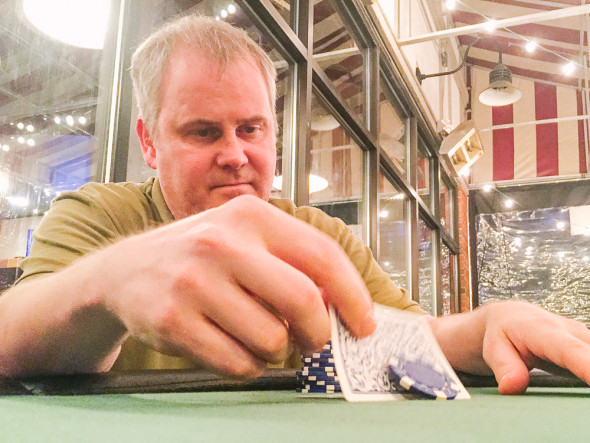 July League Stats
Best player score, 4 game minimum:  Jamar Rockymore, 0.899
Most KOs:  Big Mike, 36
Most KO Points:  Ray Nestlehutt, 9
Most registrations:  Big Mike, 27
Most winnings: Johnny Stephenson, $250
Top Players by Venue:
57th Fighter Group, Thursdays
Points: Jonathan Harris, 20
Player score: Jessica Gale, 0.863
KOs:  Jonathan Harris / Jessica Gale, 8
57th Fighter Group, Saturdays
Points:  Christian Covington, 18
Player score:  Jack McDermott, 0.923
KOs:  Kramer, 6
Brewhouse Cafe
Points: Chris McAuley, 13
Player score:  Greg Kirby, 0.964
KOs:  Greg Kirby, 7
DaVinci's Decatur
Points:  Big Mike, 23
Player score:  Dennis Milligan, 0.866
KOs:  Ray Nestlehutt, 9
Diesel Filling Station
Points:  Dean Sperry, 28
Player score:  John Albrecht, 0.853
KOs:  Dean Sperry, 16
Front Page News
Points:  Stefan G, 14
Player score:  Stephanie Rock, 0.871
KOs:  Will Scott / Big Mike, 8
Republic Social House
Points:  Jamar Rockymore, 20
Player score:  Jamar Rockymore, 0.947
KOs:  Jamar Rockymore, 15
RiRa Irish Pub – Sundays
Points:  Jack McDermott, 18
Player score:  Calvin Delaney, 0.938
KOs:  Eddie Hardy, 7
RiRa Irish Pub – Mondays
Points:  Big Mike, 20
Player score:  Big Mike, 0.923
KOs:  Curt Osmundsen, 8
Vortex Midtown
Points:  Big Mike / Christian Pounds / Christian Covington, 12
Player score: Randy Wainman, 0.815
KOs:  Johnny Stephenson, 11