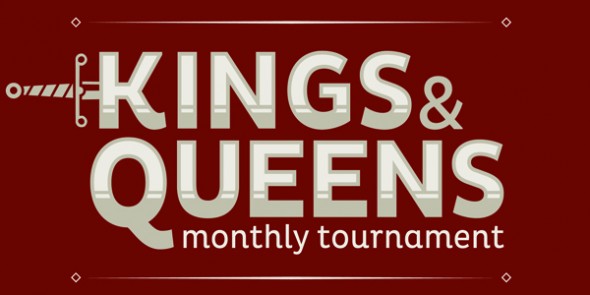 The Kings and Queens tournament for August 2015 will be held Friday September 18th at DaVinci's Pizza in Decatur at 7pm.
The winner will receive $250 cash!  Points will no longer be awarded.  Just money!!
Players who qualified more than once will get that many rebuys for the first hour.
Here are the qualifiers:
57th Fighter Group, Thursdays
Helena Treeinde
Gary Carrico
Jack McDermott
Scott Philbeck
57th Fighter Group, Saturdays
Gary Carrico
Meghan Kohne
Scott Marino
Jeff Rakestraw
Brewhouse Cafe
Scott Philbeck
Michael Messina
Travis Johnson
Shane Green
Jeff Rato
Davinci's Decatur
Daniel Kramer
Jim Reed
Jeff Rakestraw
Susan Kramer
Diesel Filling Station
Joel Salgado
John Woodham
Meghan Kohne
Zach McGee
Dean Sperry
Chris Nichols
Front Page News Midtown
Ian Shellman
Kevin Flink
Gary Carrico
Will Scott
Stefan G
Scott Philbeck
Julie T
James Man
Jamar Rockymore
Republic Social House
Adam Hazel
Ray Nestlehutt
Anna Umfleet
Chris McAuley
RiRa Irish Pub, Sundays
Mike Johnson
Gary Carrico
Jim Arinik
Tim Miller
Roane Beard
Julie T
Aaron Hill
RiRa Irish Pub, Mondays
Steve Csukas
Phil Klinge
Jim Arinik
Ian Shellman
Vortex Midtown
Ali Osman
Gina Reed
Larry Headspeth
Tom Roseberry