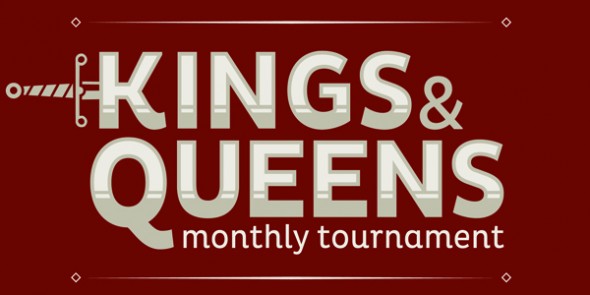 The Kings and Queens tournament for December 2013 will be held Friday the 17th of January at Deadwood Saloon at 8.
The winner will receive $250 cash!  No points will be awarded this time, now that we're having the Kings and Queens on a different night than our regular games.
Players who qualified more than once will get that many rebuys for the first hour!
Here are the qualifiers:
57th Fighter Group
Greg Kirby
Blaze
Tom White
Brewhouse Cafe
Stephen Gardner
Eddie Hardy
Jameson Humber
Gnick Waldorf
Carolyn's Gourmet Cafe
Gina Reed
Adam Pelletier
Chriag Patel
Deadwood Saloon, Saturdays
Jonathan Harris
Jim Reed
Jeff Rakestraw
Diesel Filling Station
Tom White
Jessica Gale
Andrew Hays
RiRa Irish Pub, Sundays
Jim Arinik
Gary Carrico
Eddie Hardy
RiRa Irish Pub, Mondays
Jim Reed
Gina Reed
Will Scott
Vortex Little 5 Points, Mondays
Johnny Stephenson
Andrew Hayes
Jay Skuban
Vortex Little 5 Points, Wednesdays
Oliver Howington
Tom Roseberry
Will Melton
Vortex Midtown, Sundays
Jonathan Harris
Carl Morris
Brandon Hall
Vortex Midtown, Tuesdays
Brian Gould
Bob the Builder
KJ Little