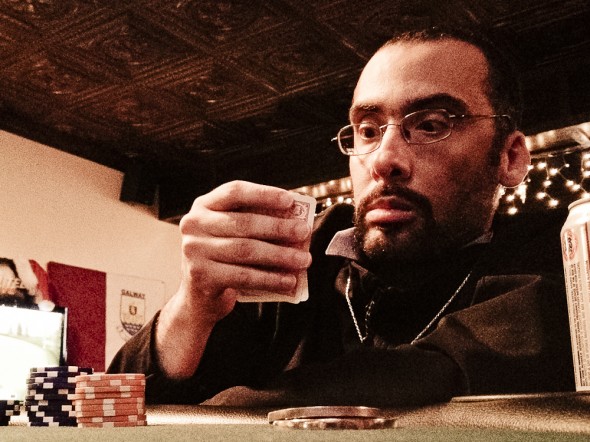 Sorry for the delay in posting this, but Eddie probably let all of you know already that he was the top player for April!  Eddie finished the month with 70 points in 21 games, and did pretty damn well in each of those games.  Although he didn't clinch one first place finish in April, his consistency at the final table pushed him above everyone else.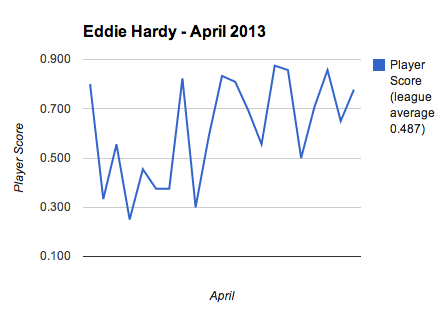 As you can see in the above chart, Eddie finished above the league average 15 of his 21 games.  In his final 12 games, he didn't have less than a .500 score.
As a reminder, the player score is a numerical value based on what place a player finishes AND the size of the tournament.  3rd place out of 14 people will give a score of .800, but a 3rd place finish out of 20 will give a .857.
The points he earned in April catapulted him to the top of the points for the entire season, and earned him the chip lead at May's 2013 Final Tournament.
So good job, Eddie.  Now your friends will believe you when you tell them you're the best.
Some other notable players: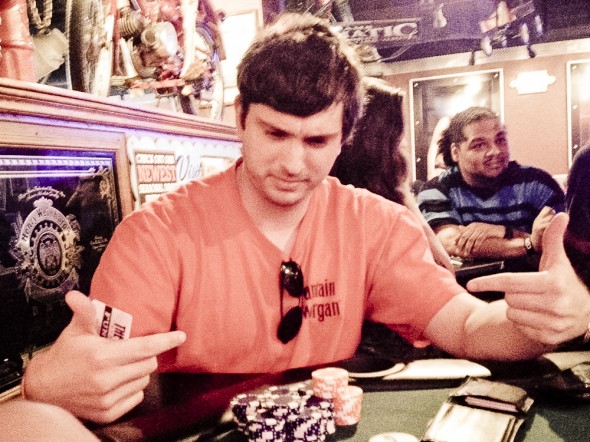 Brandon Hall ended the month with the top player score, with a score of 0.796 in at least 4 games.  Brandon also had the best points-per-game average at 7.25 (finishing, on average, better than second place).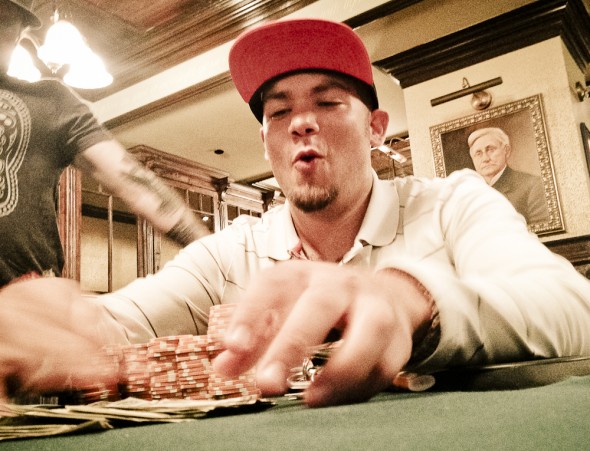 Andy Bibliowicz finished the month as the most aggressive player with 43 total knockouts!
 Deadwood Saloon
Most Points:  Jonathan Harris, 32
Top Player Score:  Jim Reed, 0.646
Most KOs:  Jonathan Harris, 8 KOs
Diesel Filling Station
Most Points:  Nick Black, 14.5
Top Player Score:  Todd Debacker, 0.578
Most KOs:  Nick Black, 9 KOs
Matador Cantina
Most Points:  Andy Bibliowicz, 20
Top Player Score:  Andy Bibliowicz, 0.630
Most KOs:  Andy Bibliowicz, 19 KOs
RiRa Irish Pub
Most Points:  Jim Arinik, 27
Top Player Score:  Erik Tierney, 0.828
Most KOs:  Andy Bibliowicz, 13 KOs
The Vortex in Little Five Points
Most Points:  Eddie Hardy, 28
Top Player Score:  Asa Bagshaw, 0.705
Most KOs:  Whitney Segars, 12 KOs
The Vortex in Midtown