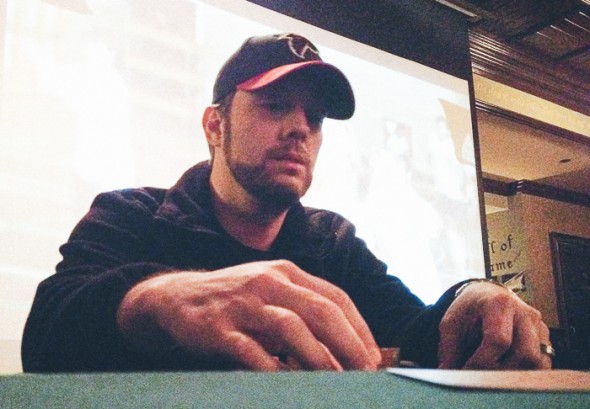 The Freeroll Atlanta Fall 2013 season was dominated by two people – Jim Reed, and his wife Gina Reed.
Top scorer in August?  Jim.  Top scorer in September?  Gina.  Top scorer in October?  Again – Jim.
Jim topped the ladder in October's race for points, and even won our annual Breast Cancer Benefit tournament (well, chopped it).  It wasn't even close – Jim had 23 more points than the second highest points scorer.  Dayuuuum.
Jim Reed's October stats:
Total points:  76 (league average 7.8)
Player score:  0.689 (league average 0.508)
Total KOs:  26 / 1 per game (league average 3.6 / 0.96)
Registrations:  26 (league average 3.75)
In-the-points percentage:  50%
Points per game:  2.92
Total winnings:  $335
This run of good playing / luck put him in the second place starting stack for our final tournament, which equals a starting chipstack nearly 5 times more than 40th place.
Good job Jim!  We're sure you'll be getting another one of these posts in the future!
Other notable players:
Best player score (minimum of 4 games):  Jay Skuban – 0.876
Most KOs:  Gina Reed – 29
Most registrations:  Jim Reed – 26
Most winnings:  Jim Reed – $335
Top players by venue:
57th Fighter Group
Points:  Paresh Sawant – 18
Player score:  Greg Kirby – 0.793
KOs:  Kramer – 9
Deadwood Saloon
Points:  Randy Wainman – 31
Player score:  Randy Wainman – 0.893
KOs:  Randy Wainman – 16
Diesel Filling Station
Points:  Paul Snyder
Player score:  Todd Debacker – 0.849
KOs:  Chris Krebs – 18
RiRa Sundays
Points:  Jim Reed – 22
Player score:  Arnold Sconion – 0.952
KOs:  Blondie – 9
RiRa Mondays
Points:  Gary Carrico / Andy Harrison – 17
Player score:  Andy Harrison – 0.862
KOs:  Jim Arinik – 12
Vortex L5P Mondays
Points:  Will Melton – 17
Player score:  Jay Skuban – 0.914
KOs:  Jay Skuban – 10
Vortex L5P Wednesdays
Points:  Asa Bagshaw – 26
Player score:  Andy Bibliowicz – 0.861
KOs:  Asa Bagshaw – 13
Vortex Midtown Sundays
Points:  Jeff Ratto – 19
Player score:  Carl Morris – 0.882
KOs:  Andy Bibliowicz – 11
Vortex Midtown Tuesdays
Points:  Adam Pelletier – 23
Player score:  Adam Pelletier – 0.879
KOs:  Adam Pelletier – 14