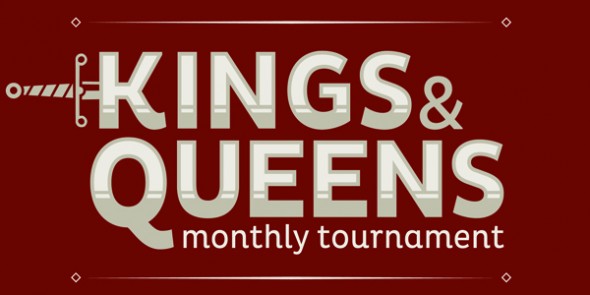 The Kings and Queens tournament for November 2013 will be held either this Friday the 6th or next Friday the 13th at Deadwood Saloon at 8.  We'll let you guys know as soon as we get confirmation.
The winner will receive $250 cash!  No points will be awarded this time, now that we're having the Kings and Queens on a different night than our regular games.
Players who qualified more than once will get that many rebuys for the first hour!
Here are the qualifiers:
57th Fighter Group
Susan Coker
Mary Ann
Jonathan Harris
Jay Skuban
Gina Reed
Brewhouse Cafe
Stephen Gardner
Simone Cain
Susan Coker
Kramer
Carolyn's Gourmet Cafe
Trevor McCandless
James Man
Greg Kirby
Deadwood Saloon, Saturdays
Joe Lamb
Ajai Karthikeyan
Greg Kirby
Diesel Filling Station
Katie Boykin
Kacey Carelson
Dean Sperry
RiRa Irish Pub, Sundays
Jim Arinik
Jessica Gale
Val Jones
Ricardo Mora
Jay Skuban
RiRa Irish Pub, Mondays
Gary Carrico
Gina Reed
Andy Harrison
Vortex Little 5 Points, Mondays
Jennifer Thomas
William Bretherton
Edie Propes
Chris Mitchell
Vortex Little 5 Points, Wednesdays
Whitney Segars
William Bretherton
Blaze
Blake Benedict
Vortex Midtown, Sundays
Eddie Hardy
Tom White
Eric Calhoun
Vortex Midtown, Tuesdays
Jeff Rakestraw
Cedric Smith
Errol Danley