Congrats to our qualifiers for the Freeroll Atlanta Winter 2013 Final Tournament!
We've calculated your starting table assignments and starting chipstacks.
This time, we've also added a color-coded reference to each player's "player score" throughout the season.  This may be an interesting way to visualize the caliber of players dispersed at each table.
The "player score" is an average of how a player finishes in a tournament and how large the tournament was.  Finishing third place in a 30 person tournament will result in a higher "player score" than finishing third in a 18 person tournament.  We average each tournament that was played by a player to give the final "player score."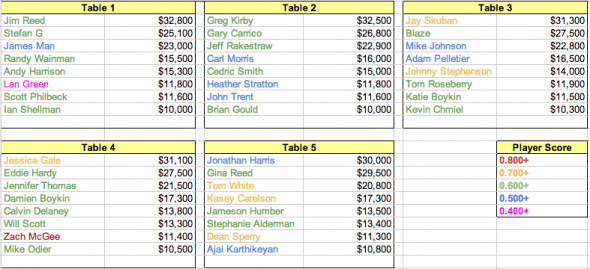 For this Final Tournament there will be no alternates allowed in – only those who finished the season in the top 40 (with the exception of our tie for 40th place).
If you qualified, but will not be able to make the tournament, please let us know so that we can pull your chipstack.  If you're going to be late, also let us know so we can blind your stack until you arrive.
We'll see you guys at RiRa on the 9th of February at 7 for the tournament!   Good luck to you all.
*Edit – one of our players had incorrect stats, so a small handful of people have had their stacks and seating assignments adjusted.