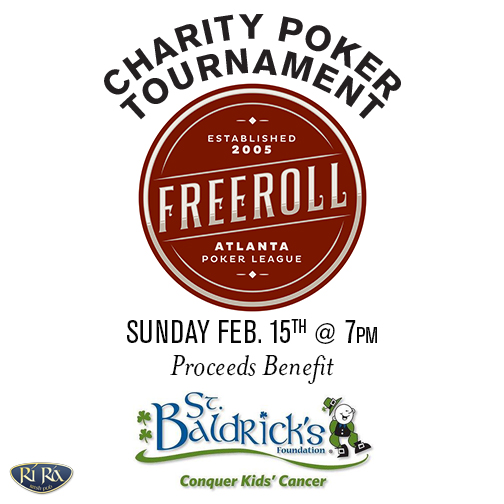 St Baldrick's is one of America's largest charitable foundations, and Ri Ra Irish pub has been a huge part of it for many years.
This year, we're teaming up with Ri Ra to do not one, BUT TWO benefit tournaments to help raise money to beat children's cancer!
Here are the details:
This Sunday, February 15th at RiRa Irish Pub at 7pm
$50 Buy in, $30 re-buys and add-ons until break (100 minutes in)
Cash or credit cards accepted, but we prefer cash
Prizes will be determined by amount of buy-ins, add-ons, and re-buys.
We'll be giving away one free buy-in to the winner of the Sunday afternoon tournament at The Vortex in Midtown on February 15th.
As always, points will be multiplied by 1.5 for the final 8.
RiRa is also looking for some people to help raise some money on their team, and then shave their head at the main St Baldricks event in mid-March!  You can email us at info@freerollatlanta.com and we'll send the info on to RiRa is you're interested in helping out.