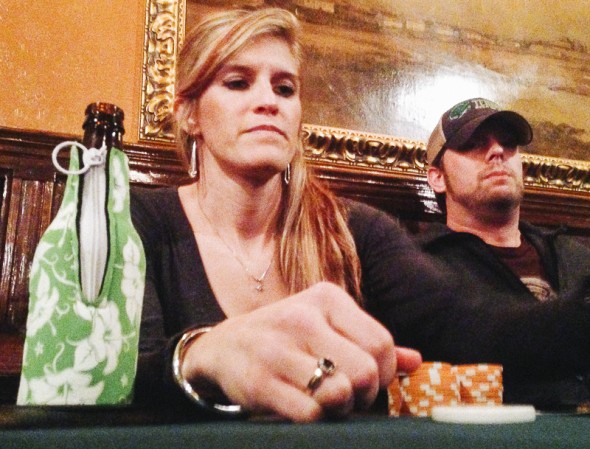 There seems to be no end to the reign of the Reed Dynasty.  For the fourth month in a row, either Jim or Gina Reed has been the highest points earner.  This time we honor Gina's dominance over the poker league for the month of November.
Gina Reed's November stats:
Total points:  52.5 (league average 7.69)
Player score:  0.612 (league average 0.525)
Total KOs:  26 / 1.4 per game (league average 3.08 KOs)
Registrations:  18 (league average 3.29)
In-the-points percentage:  50%
Points per game:  2.91
Total winnings:  $110
This couple must be drinking the same water.  Jim's stats from last month and Gina's stats this month are very similar in a few ways:  player score (0.689 / 0.612), knockouts (26 / 26), final table percentage (50% / 50%), and points per game (2.92 / 2.91).
Interesting….
So good job in November, Gina.  You and Jim can keep on trading notes on our players!
Other notable players:
Best player score (minimum of 3 games):  William Bretherton – 0.823
Most KOs:  Gina Reed – 26 (third month in a row)
Most registrations:  Jim Reed – 19
Most winnings:  Jay Skuban – $130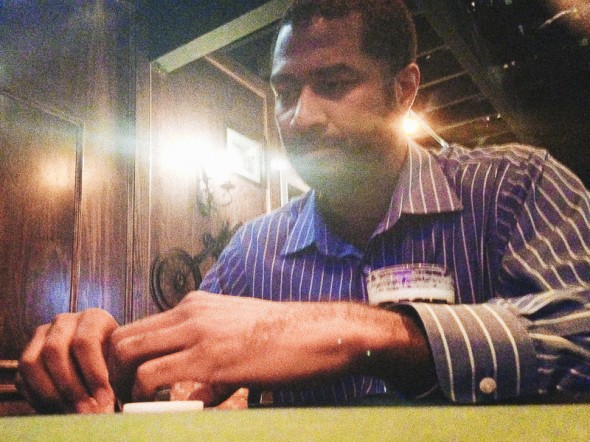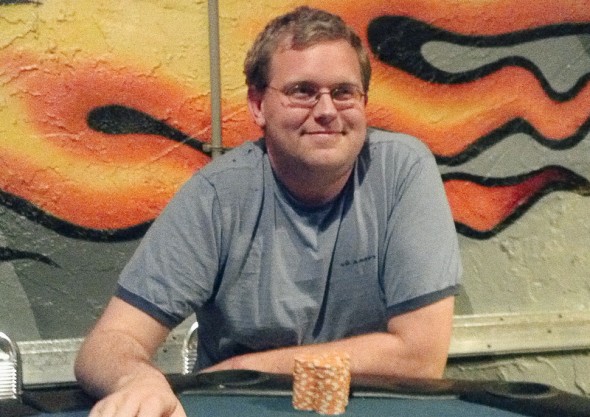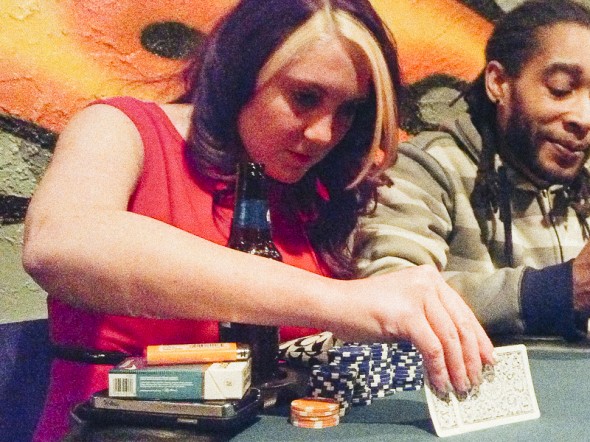 Top Players by Venue:
57th Fighter Group
Points:  Susan Coker – 13
Player score:  Gina Reed – 0.957
KOs:  Gina Reed – 10
Brewhouse Cafe
Points:  Stephen Gardner  / Simone Cain – 10
Player score:  Simone Cain – 0.958
KOs:  Stephen Gardner – 8
Carolyn's Gourmet Cafe
Points:  Trevor McCandless – 10
Player score:  Trevor McCandless – 0.938
KOs:  Trevor McCandless – 6
Deadwood Saloon
Points:  Joe Lamb – 18
Player score:  Greg Kirby – 0.868
KOs:  Randy Wainman – 8
Diesel Filling Station
Points:  Katie Boykin – 15
Player score:  Thomas Ward – 0.865
KOs:  Paul Snyder – 8
RiRa Irish Pub – Sundays
Points:  Jim Arinik – 16
Player score:  Val Jones – 0.950
KOs:  Ricardo Mora – 8
RiRa Irish Pub – Mondays
Points:  Gary Carrico – 17
Player score:  Andy Harris0n – 0.855
KOs:  Andy Harrison – 9
Vortex Little Five Points – Mondays
Points:  Jennifer Thomas – 13
Player score:  Jay Skuban – 0.859
KOs:  Jennifer Thomas – 8
Vortex Little Five Points – Wednesdays
Points:  Whitney Segars – 13
Player score:  Peter Kruskamp – 0.941
KOs:  Brian Gould / Andy Bibliowicz – 6
Vortex Midtown – Sundays
Points:  Tom White – 21.5
Player score:  Eddie Hardy – 0.870
KOs:  Tom White – 9
Vortex Midtown – Tuesdays
Points:  Jeff Rakestraw / Cedric Smith – 17
Player score:  Cedric Smith – 0.908
KOs:  Cedric Smith – 9