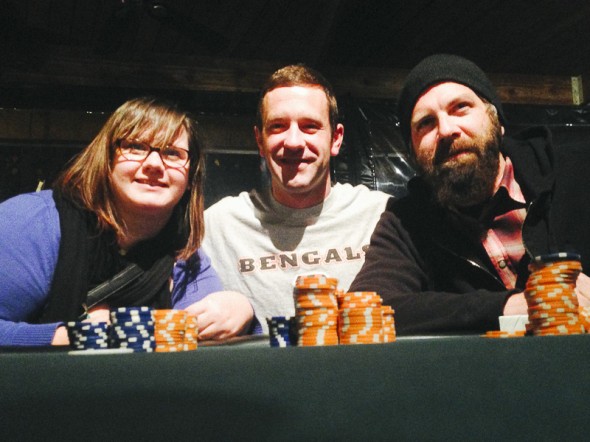 On Wednesday, the 11th of December, we held our second benefit poker tournament for the National Hospice Foundation.  This time around, Diesel Filling Station in the Virginia Highlands did an awesome job hosting us.
All in all, we had 24 players come out and raise around $1300 dollars for the Foundation!  We'd call that a success!
Congratulations to our winners – Jessica Gale, Andrew Hays, and Tom White.  As the clock neared 1am, they decided to split the $1000 in prize winnings.  All three players were even stacked and getting pretty tired.  Odier won't like it, but we can't blame them.
Thanks to David Sarich for getting this together for us, and locking down some extra prizes to give away at the final table (Rakestraw loves his socks, by the way).
Again, thanks to David Sarich for his help, Justin, Jenn, and CJ at Diesel, Carrie for helping with the raffles, and all of you who came out and played or bought raffle tickets!