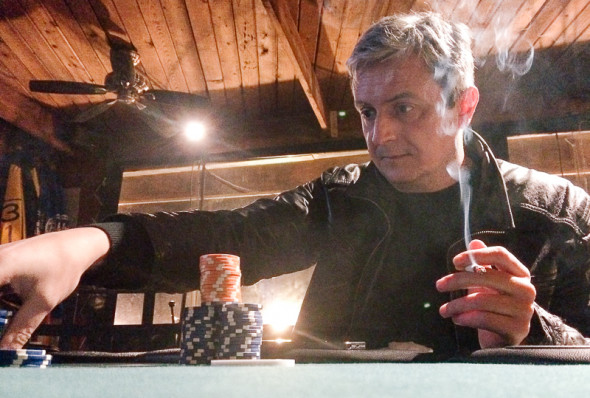 Once again, Stefan is back on top of the monthly charts!
Stefan has been our top points earner 3 out of the last 4 months!  Scott Philbeck was able to knock him down once, but Stefan bounced right back.
Total points:  76
Player score:  0.648
Total KOs:  13
KO points:  2
Registrations:  19
Final table percentage:  63%
Points per game:  4
Total winnings:  $130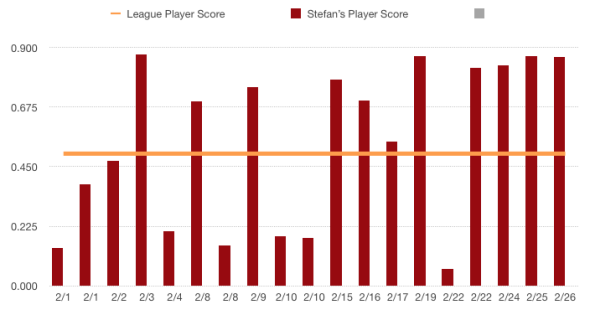 Stefan had a little bit of a rough start, as we can see in the above player score chart.  The first half of the month he performed better than average only 3 times… but at the end of the month he really turned it on!
We can see that progression here: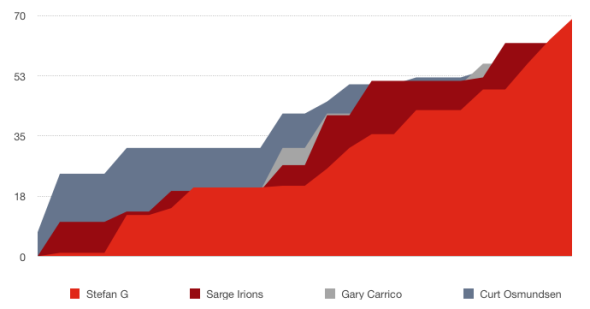 Curt Osmundsen started the month with a huge lead, and maintained that nearly the entire month.  Sarge and Gary kept closing in, and even took the lead once or twice, but ultimately Stefan came through at the end and racked up some clutch points.
Congrats again, Stefan.  Your face once again is the first everyone gets to see on the website.
But let's not forget the rest of you….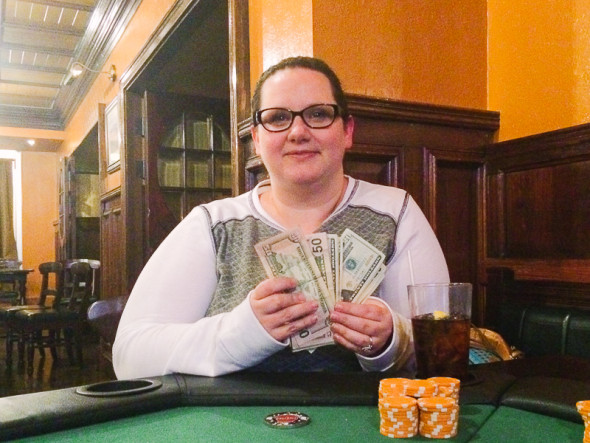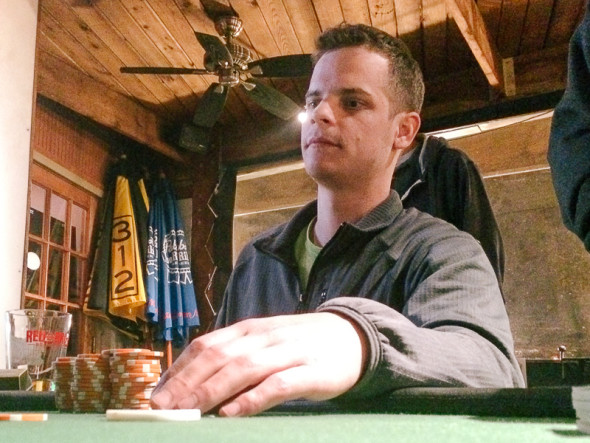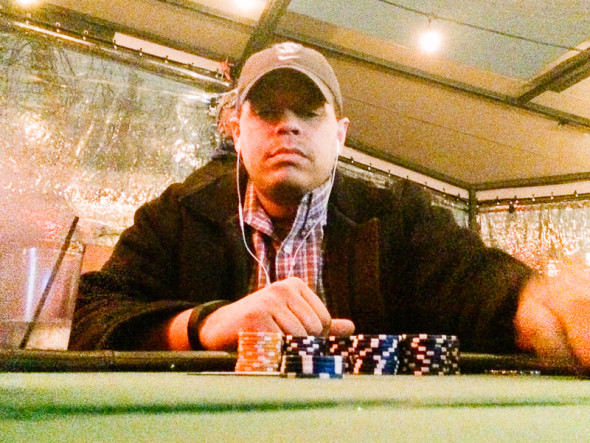 February League Stats
Best player score:  Steve Putman, 0.869
Most KOs:  Sarge Irions, 30
Most KO Points:  Errol Danley, 5.5
Most registrations:  Aaron Hill, 22
Most winnings: Jessica Gale, $420
57th Fighter Group
Points:  Stefan G, 13
Player score: Stefan G, 0.865
KOs:  Jonathan Harris / Jacob Tharpe, 9
Brewhouse Cafe
Points: Stephen Minshaw, 16
Player score:  Stephen Minshaw, 0.865
KOs:  Kayla Coots, 9
Diesel Filling Station
Points:  John Woodham, 20
Player score:  Scott Philbeck, 0.881
KOs:  Zack Bergeson, 10
Fado Irish Pub, Buckhead
Points:  Steve Csukas, 28
Player score:  Errol Danley, 0.815
KOs:  Scott Philbeck, 7
Front Page News
Points:  Stefan G, 22.5
Player score:  Lan Green, 0.785
KOs:  Lan Green / Alex McClain, 7
Republic Social House
Points:  Sarge Irions, 24
Player score:  Travis Clement, 0.822
KOs:  Sarge Irions, 16
RiRa Irish Pub – Sundays
Points:  Steve Putman, 20
Player score:  Steve Putman, 0.948
KOs:  Aaron Godbey, 13
RiRa Irish Pub – Mondays
Points:  Dan Esrey, 14
Player score:  Dan Esrey, 0.864
KOs:  Craig Bruckman, 8
Vortex Midtown
Points:  Sarge Irions, 20
Player score: Jim Arinik, 0.779
KOs:  Jim Arinik, 7