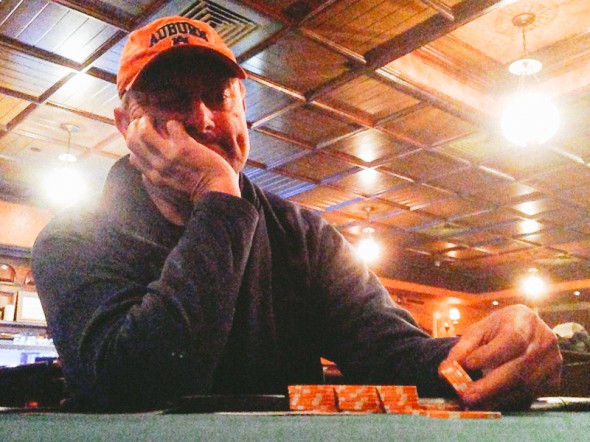 Gary Carrico stayed at the top of the points race for all of March!  With two wins right off the bat, he maintained his position near the top for 4 whole weeks.
Let's take a look at some of Gary's stats for March:
Total points:  79 (league average 7.85)
Player score:  0.767 (league average 0.501)
Total KOs:  24 / 1.14 per game (league average 3.75 total KOs)
Registrations:  21 (league average 3.91)
In-the-points percentage:  67%
Points per game:  3.76
Total winnings:  $165

As we can see in the chart above, Gary performed less than average only 4 out of his 21 tournaments.  We can also see that those two wins at the beginning (20 points right there) really set him up for a big finish in the month.
Some might be surprised he could find the time to play his cards in between yelling at the referees during all those North Carolina basketball games.
Anyway, good job Gary!
Let's look at some numbers from our other players…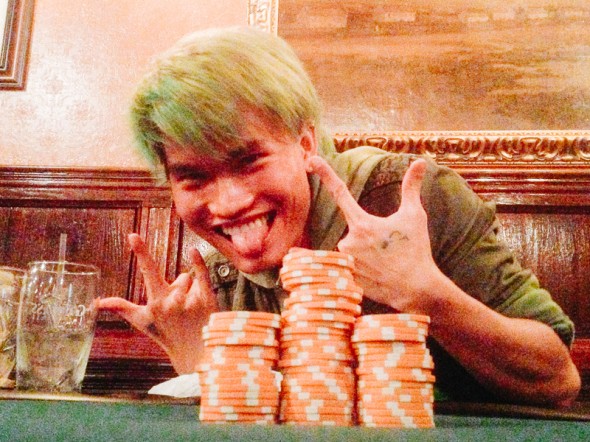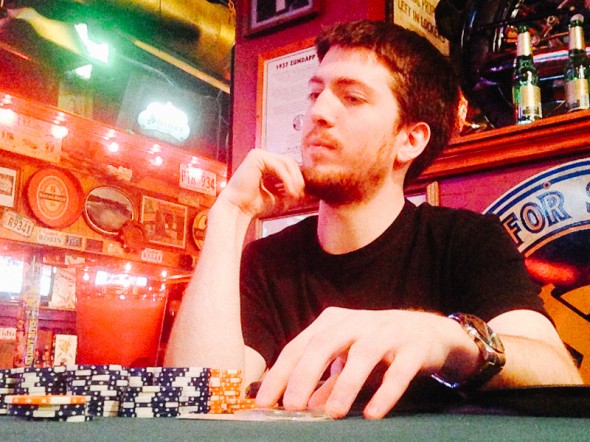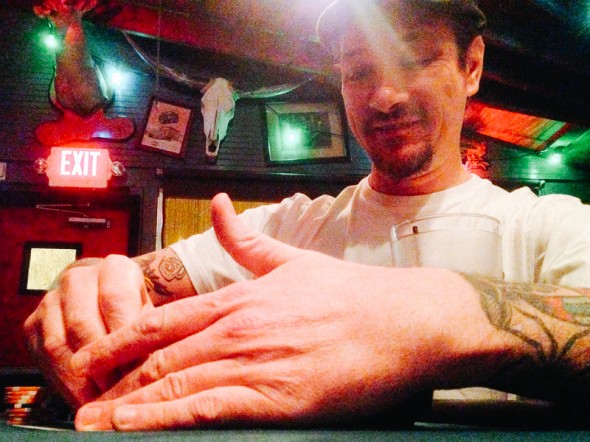 February League Stats
Best player score (minimum of 4 games):  Ian Shellman, 0.849
Most KOs:  Blaze and Aaron Godbey, 26
Most registrations:  Lan Green, 28
Most winnings:  Kramer, $250
57th Fighter Group
Points:  Blaze, 14
Player score:  Blaze, 0.836
KOs:  Tim Zins, 11
Brewhouse Cafe
Points:  Gerry Jiminez, 16
Player score:  Gerry Jiminez, 0.923
KOs:  Gerry Jiminez, 16
Deadwood Saloon
Points:  Gary Carrico, 22
Player score:  Jeff Rakestraw, 0.834
KOs:  Aaron Godbey, 10
Diesel Filling Station
Points:  Damien Boykin, 16.5
Player score:  Craig Bruckman, 0.828
KOs:  Craig Bruckman, 13
RiRa Irish Pub – Sundays
Points:  Eddie Hardy, 26
Player score:  Ricardo Mora, 0.866
KOs:  Eddie Hardy, 12
RiRa Irish Pub – Mondays
Points:  James Man, 22
Player score:  James Man, 0.876
KOs:  James Man, 12
Vortex Little Five Points – Mondays
Points:  Meghan Kohn, 22.5
Player score:  Lockett Pundt, 0.868
KOs:  Blaze and Calvin Delaney, 9
Vortex Little Five Points – Wednesdays
Points:  Christian Green, 16.5
Player score:  Jennifer Thomas, 0.891
KOs:  Shane Green, Gnick Waldorf, and Christian Green, 7
Vortex Midtown – Sundays
Points:  Ian Shellman and Brandon Hall, 17
Player score:  Ian Shellman, 0.929
KOs:  Scott Philbeck, Ian Shellman, Brandon Hall, and Addison Webb, 6
Vortex Midtown – Tuesdays
Points:  Stephanie Alderman, 17.5
Player score:  Jim Arinik, 0.807
KOs:  James Man, 9